My Genealogical Records

The Sung Family CugPu (Clan Records)
NB: For view only to friends and family at this current time.
lists the names of the ancestors up to the time of the Southern Sung Dynasty ancestor Song Yuan Dong. Since it is rare for daughters' names to be listed, the tree only show the male heirs. In the original list, the surnames of the wives of these ancestors are given. They are omitted here for clarity only.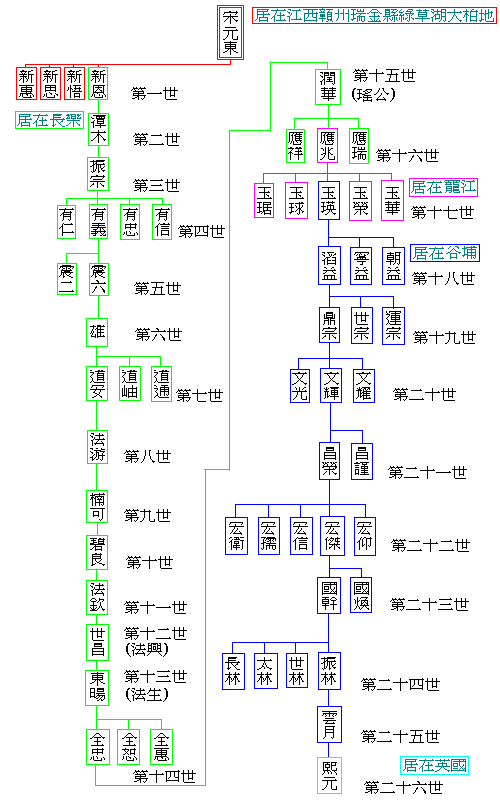 Sung4 Sin1 En1 (M. Song Xin En, C. Sung San Yan) is the the first generation burried in Cong2Log6 (ChangLe) or modern day NgFa (WuHua) county in Guangdong Province, China. The seventeeth generation descendent from him moved to the area of GugPu (GuBu) in Sin On (Xin An, San On) near the old colonial border of Hong Kong and China.
Five generations within living memory: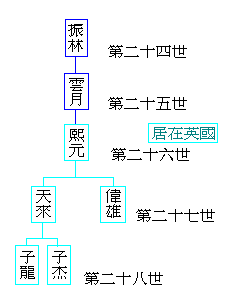 Sung4 Hi1 Ngien2 is my father. His father (Sung4 Yun2 Ngied6) died shortly after his birth in a fishing accident. He was brought up by his mother and for the first 8 or 9 years of his life, he knew his grandfather, (Sung4 Zen3 Lim2). Zen Lim died at the venerable age of 81 and by that time he was blind.
Father married and worked around HongKong until he came to Britain in the 1950's. He has two sons and three daughters. I, Vui Hiung, am the youngest. My older brother has two sons.